The Fred Beans Family of Dealerships has been proudly serving the greater Philadelphia area for many years. As the name suggests, we're a family-owned and -operated business dedicated to supplying our community with high-quality automobiles, expert automotive service, and friendly customer assistance.
As a full-service dealership, we strive to meet every automotive need that our drivers have. Whether it's finding a new family vehicle, automotive repairs, quality parts, or vehicle information, we gladly supply it to our drivers.
When Fred Beans set out to make a name for himself in the automotive dealer industry, he didn't anticipate where his dreams would take him. Now, with more than 25 dealerships supplying 18 vehicle brands, Fred can say that he achieved his goals. His hands-on approach to providing great service and mentorship has helped to craft a family of dealerships that drivers like you can rely on.
Fred is a past recipient of the Central Bucks Chamber of Commerce's Business Achievement Award. He also received the top scouting award from the Bucks County Council of the Boy Scouts of America as well as being considered one of Power Brokers: Bucks County's 10 Most Influential in 2000 by The Intelligencer newspaper.
Fred Beans believes that his success can be attributed to his practice of giving back and teaching others to give as well. That's why the Fred Beans Charitable Fund was created. It provides support to initiatives and organizations of all sizes in the hopes of lending a helping hand to those who need it.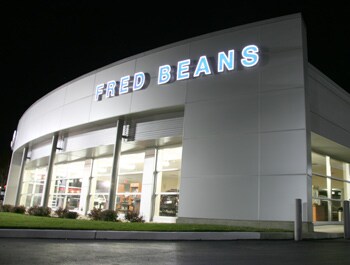 For example, when Hurricane Katrina hit the Gulf Coast in 2005 and left many people without homes or belongings, Fred Beans urged his family of dealerships to work together to help out. They worked with other community leaders and adopted the towns of Waveland and Bay St. Louis, MS. Because of their efforts, $113,000 was raised to fund and furnish a state-of-the-art day care center, which was built by the Bucks-Mont Katrina Relief Project.
---
The Women at Beans
In the last 60+ years, the Fred Beans Automotive Group has grown exponentially into a comprehensive network of car care destinations. The women of the Fred Beans Automotive Group have played an instrumental role in upholding our motto—It's better at Beans. Learn more about how women have paved the way for the success of the more than 21 Fred Beans automotive locations in the video on this page!
---
A Letter from Fred
From our humble beginnings as a service station in the 1950s, the Fred Beans Family of Dealerships has grown to be Pennsylvania's largest privately held automotive group, offering 18 top brands.  
What's the secret to over 50 years of success? It's simple: At Fred Beans, we do everything to meet our customers' automotive needs. We treat customers like family, and we're committed to delivering customer satisfaction. You deserve the best automotive experience, and that's exactly what you get when you visit a Fred Beans dealership.
One of the many things that sets us apart from the others is our AutoRewards program, a unique savings program exclusively for Fred Beans drivers. When you purchase or lease a vehicle from a Fred Beans dealership, you're automatically enrolled in AutoRewards. Every time you get your car serviced, you earn money toward your next purchase. And as a Beans AutoRewards member, you get exclusive discounts at participating local businesses.
Another difference you'll notice at Fred Beans is our people. We're blessed to have a team of dedicated salespeople and service technicians who turn every trip to our dealerships into a wonderful experience.
The Fred Beans Family of Dealerships is everything automotive. Whatever your needs may be, from the first drive to ongoing maintenance checks, we'll ensure that you're beyond satisfied each and every time.
Thank you for visiting our website. I truly welcome any and all comments about our dealerships, our people, our products, our services, or our website.
Please feel free to email me with your comments and take a moment to rate our website.
Warm regards,
Fred Beans
Founder and President
Fred Beans Family of Dealerships