When it comes time to buy a car, it can be a tough decision. Do you go with a certified pre-owned car or a used car? There are benefits and drawbacks to each type, so it can be difficult to tell which one is right for you. That's why our team at Fred Beans Used created this 100% free eBook. Download your copy; you'll receive a bonus coupon when you do!
Here's just some of what you can expect to learn from this helpful document: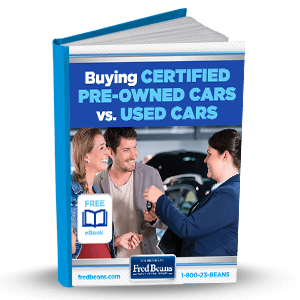 What is a certified pre-owned (CPO) vehicle?
What are the differences between a CPO and a standard used car?
What are the pros and cons of each option?
The importance of thorough automotive research.
How should you go about the test drive?…and much, much more!
If any of that information sounds useful, then fill out the form on this page right away. Don't wait!
Simply fill out the form and click Get Instant Access.