Over the last decade, electric cars have drastically grown in popularity because of their efficient and smooth performance. However, there are many more benefits to be had when you choose to make your next car an electric car.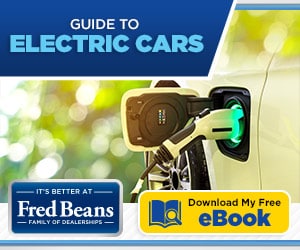 To help you get a better idea of what owning and driving an electric car is like, we at Fred Beans have put together this FREE Guide to Electric Cars. Inside this information eBook, we cover all kinds of electric car topics including:
What an electric car is and how it works
The pros and cons of buying an electric car
How and where to charge your electric car
And much, much more!
Shoppers in the areas of Philadelphia, Doylestown, Mechanicsburg, and Flemington can access their FREE copy of our helpful guide today. All you have to do is fill out and submit the short information request form on this page!