Used cars are a great option for those buyers on a budget looking to stretch their dollar a little further. In fact, not only do they have a lower starting price, but they can be cheaper to own over a lifetime because of lower repair and maintenance costs. But as with all car-buying adventures, there are some decisions to be made before you even head to the dealership.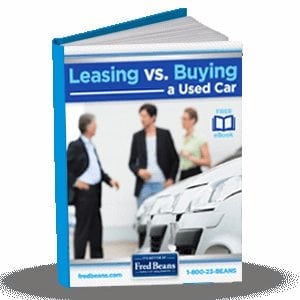 The first step to getting behind the wheel is deciding on how you'll finance your purchase. And with that comes the decision between buying and leasing your used car. That's why the team at Fred Beans has created this useful eBook.
In this guide, Leasing vs. Buying a Used Car, we'll cover the following topics:
Pros and cons of leasing vs. buying
Special considerations while buying a used car
Tips for shopping for a used car
When you download this useful guide from the team at Fred Beans, you'll also get exclusive access to money-saving coupons.
So, download the FREE guide now by filling out the form to the right. Then click, Get Instant Access!.