Whether you're just starting to look for your first used car or have owned one for years, you've probably heard the term preventative maintenance.
In this free eBook, we explain the importance of preventative maintenance for a used car, and we let you know about some of the key steps.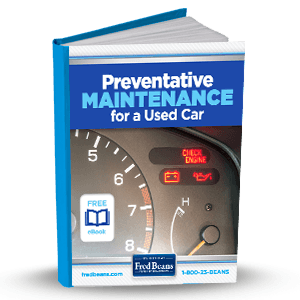 Here's just some of what you'll learn:
How preventative maintenance can contribute to your pre-owned vehicle's longevity, efficiency, cost-effectiveness, and safety.
All about fluids, belts, oil changes, batteries, windshield wipers, etc.
Info regarding cabin air filters, engine air filters, tire rotations, spark plugs, etc.
And much more!
Fill out this simple form to download your FREE eBook, Preventative Maintenance for a Used Car. Once you download, you'll get access to exclusive money-saving coupons!
Simply fill out the form on this page and click Get Instant Access.