Are you considering exploring an auto loan the next time you want to purchase a vehicle? The team at Fred Beans thinks that is a great idea! However, did you know you can get elevated perks from lenders if you have a high credit score?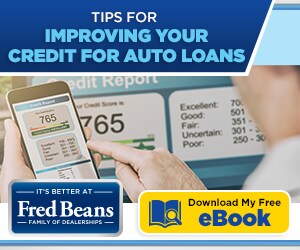 It's true! However, those who don't have an ideal score have no need to worry. Whether you have not built up your credit yet or looking to heighten your score, we have something to help. You can download our FREE ebook: Tips for Improving Your Credit for Auto Loans and get started elevating your credit today.
In this eBook, you will learn about incredibly useful information including (but not limited to):
Ways to take your credit to the next level
How your credit score affects auto loans
Everything you need to know about vehicle loans and credit scores
Downloading and reading this eBook wont only give you the resources to improve your credit. It will also prepare you for when it's time to speak to our finance team. Best of all it's free! All you need to do is fill out the form found on this page and you'll receive your copy right away!
When you're ready to find your dream car and the perfect financing option to match it, visit Fred Beans. Our team is excited to help you through this exciting experience.