Many drivers feel anxiety about trading in their used car. While the process can be frustrating, there are lots of techniques you can use to make trading your vehicle a breeze.
This Steps to Trading in Your Used Car eBook provided by Fred Beans Used is designed to assist you throughout the phases of exchanging your used vehicle for a new ride. From value-boosting tips to the dealership procedure and more, you'll have the expert knowledge you need to feel confident when trading in your car.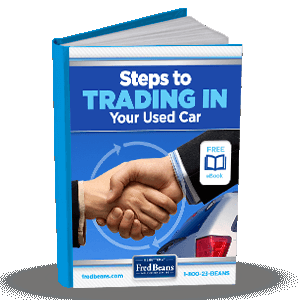 In this eBook, you can expect to learn:
How to boost the value of your used car
Each step of the dealership trading process
Benefits of trading your vehicle into a dealership
On top of all the insights you'll encounter in these pages, this eBook includes coupons so you can save big bucks on your next pre-owned car from Fred Beans Used!
To access all the bonuses offered here, fill out the form on this page to download this FREE eBook and get to reading! Before long, you'll be a car-trading connoisseur with the know-how needed to get the best deal for your used car.
Simply fill out the form and click Get Instant Access.