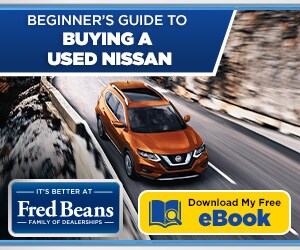 If you're in the market for a used Nissan but have never gone through the process before, you may be wondering what steps to take. At Fred Beans, we want your journey to go off without a hitch. This is why we have created this FREE ebook: Beginner's Guide to Buying a Used Nissan.
Inside, you'll be guided through all the steps you need to take before and during your dealership visit, so you can feel confident in your decision. This includes information like:
All about budgeting for your used Nissan
How to research for the perfect model
Getting the most out of your test drive
To get instant access to all of this and so much more, all you need to do is complete the form on this page. Best of all, it's FREE for all of our customers.
Download today and see how you can make buying your first used Nissan streamlined and sound!