You're starting to look for a new car, and you think investing in a used car is the right option. So which is better for you, buying a used car from a dealership or a private owner? The price of the vehicle, its condition, and the overall convenience are important factors to take into account when you're on the hunt for your new used vehicle.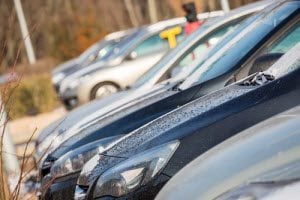 Price
Most people who are looking for a used car pay the most attention to the upfront price of the vehicle. However, there's much more to consider financially than just the asking price of a car.
When searching for a
used vehicle
, you're likely to find that the asking price of cars sold by private sellers are often lower than prices offered by dealerships. You're also likely to find that, unlike dealerships, private sellers generally don't offer financing options. This means when you purchase a car from a private seller, you'll pay the full asking price up front for the car as is. Alternatively, when you purchase a car from a dealer, you usually have the option of making payments on your car over a period of time, and the asking price many times includes a bit more vehicle security, which we'll discuss later.
Other financial factors to consider include price negotiations and vehicle trade-in options. Private sellers are often willing to sell their vehicle for a bit lower than their asking price, either because they intentionally priced it higher or because they're eager to sell it sooner rather than later. Dealerships can be much less flexible in terms of price negotiations. However, they do normally offer the option of trading in your current vehicle and putting that value toward the cost of the new vehicle. Private sellers rarely offer this as an option.
Vehicle Condition
As we mentioned earlier, the dealership's asking price of their used vehicles can come with some extra security. Certain dealerships sell
certified pre-owned vehicles
, which means the vehicles they sell come with a special warranty and have been through official inspections and any necessary repairs. This can help guarantee that you're purchasing a reliable, working vehicle.
Private sellers don't include this kind of security. Because they're not legally bound by the same strict laws that dealerships are, they sell their cars as is without a warranty or inspection guarantee. This isn't to say that purchasing from a private dealer is a poor option; it simply means you'll need to do a bit of extra research to guarantee you're purchasing a reliable car. Always have a mechanic that you trust inspect your potential car before you purchase it, and do some of your own research by requesting a vehicle report.
Convenience
The extra research that goes into buying a car from a private seller can lead many buyers to purchase from a dealership. A dealership in some ways is a more convenient option for many people. Dealerships provide the car facts upfront and ensure you're buying a vehicle in good working order. Private sellers, on the other hand, may not provide all the car information you need to make a wise decision, thereby requiring you to do much more research.
Dealerships complete most of the paperwork for you when you buy one of their cars. They know how to correctly handle all the title and vehicle registration transfers, so all you need to do is sign. When you purchase a car from a private seller, you're both responsible for correctly handling all the associated paperwork. This usually requires that you make at least one trip to your local tag office or department of motor vehicles.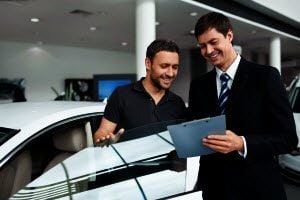 Dealership vs. Private Owner: Which is Best for You?
Ultimately, whether you choose to purchase your vehicle from a dealership or a private owner is based on your personal situation and preferences. Your knowledge of vehicles, your finances, and your timeframe all come into play in determining where you buy your new used car. Don't forget; your own likes and dislikes should also be deciding factors when you're looking for a car.
Here at Fred Beans Used, we know a few of our hundreds of used cars in our inventory are bound to catch your eye. We proudly serve the Philadelphia, Pennsylvania, region, so
contact us today
to schedule a test drive!