Shopping for a new car is one incredibly fun experience for consumers, but amidst all the test drives and feature selection, you should think carefully about the cost. In this article, our team at Fred Beans will show you a few ways to get the most value for your trade-in vehicle. That way, when Philadelphia, Doylestown, Flemington, and Mechanicsburg drivers go to purchase a new vehicle, they can lower the cost by trading in their current vehicle.
Bring Maintenance Up to Date

Having a car that's up to date on all manufacturer-recommended maintenance is bound to help increase its value, even if only a little. So, whether you've been diligent in caring for your vehicle while you owned it, it's a good idea to catch up on all past due maintenance items.
Review the maintenance schedule in your owner's manual, and compare it to your current mileage and service history. Any items that need to be serviced should be checked by a certified technician. If you're not sure what your maintenance schedule is, contact our service department.
While servicing your vehicle, there's a chance that the automotive technician may spot areas or issues that need to be repaired. However, it's important to consider two factors before agreeing to the repairs. One: Is the repair needed for the vehicle to be safe to drive? Two: Will the increase in value from the repair outweigh the cost of having the repair done? The second question is particularly important when considering trade-in value since you won't want to pay for a $200 repair that only increases the car's value by $100.
As mentioned before, you want to ensure that whatever repairs or replacement parts you receive, they increase the total value of the vehicle more than their cost to you. For reference, here are a few items that typically cost less than the amount of value they add to the vehicle:
Large scratches
Dents
Weathered tires
Damaged windows
Damaged or burnt-out lights
Have the Car Cleaned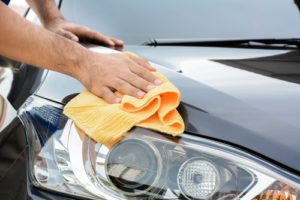 Believe it or not, a part of a used car's appraisal is subjective. If the vehicle looks like it's in good shape and has been well taken care of, chances are it'll fetch a better trade-in value. So, a thorough cleaning can go a long way.
Shop around for a car wash or detailing company in your area that offers both a comprehensive cleaning and affordable prices. Once you find the best of both, have the car cleaned thoroughly. You might want to skip out on optional treatments like protective weather coatings, but a good waxing can really help your vehicle look like new. Remember to consider how much the wash will cost compared to how much you think it'll increase the vehicle's value.
Gather Your Maintenance Records
Having proof that your vehicle was well taken care of can help increase its value. So, try to keep track of all your service documents or receipts from repairs. If you don't have this information, try contacting the business that completed the work to see if they have a history of the work performed.
Visit Your Local Used Car Dealership
We hope you found this article on how to boost the value of your trade-in helpful. If you have any questions, please feel free to reach out to our team at Fred Beans. If you're in the Philadelphia, Doylestown, Flemington, Or Mechanicsburg area, and you're ready to trade in your vehicle for a new one, you can get started by
browsing our inventory
. If you see a vehicle you like, you can schedule a personal test drive. We hope to hear from you soon!