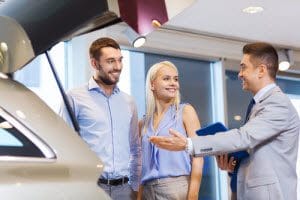 Once upon a time, used cars were driven by people who couldn't afford new vehicles, but that's all changed. Every year, more people discover the many advantages of buying used as opposed to buying new. There are tons of reasons why a pre-owned vehicle in Doylestown, Boyertown, or Reading will be a better overall companion for you than a new one-you just need to let go of the stigma and go! Discover the range of reasons and advantages to buying a used car over a new one-from cost savings to lower depreciation and insurance, and more.
Lower Sticker, Factory Warranty
When you buy a used car you're going to see significant cost savings. Even a car that's only one year old will often sell at a far lower price than its brand-new counterpart. What's great about this? That year-old vehicle is going to have the same factory warranty coverage as its newer cousin. Sure, maybe you'll have one year less of coverage, but the significant savings means you'll be able to pay it off faster, too.
Depreciation? Not with a Used Car
When you buy a new car, the value of that vehicle drops off by as much as 30 percent the very instant you drive it off the lot. A used vehicle has already suffered that depreciation hit. What that means is a new car is an underwater buy, meaning that you're going to immediately owe more on the vehicle than it's worth. A used one, on the other hand, can actually be a much better investment if you take the right care of it.
Luxury Options, Reasonable Price
While we're on the topic of overall finances, if you've always wanted a luxury vehicle but can't afford the price of that brand-new luxury badge, you might be able to secure a pre-owned luxury car that's a couple years old and features everything you've ever wanted in terms of comfort, convenience, and luxury for a fraction of what you'd pay for its new model year counterpart.
It's Got the Kinks Worked Out
There's another old piece of conventional wisdom, which states that a gently used car around two years old is an even better buy mechanically than a new one. Cars tend to have a shakedown period during which minor things can go wrong. These are almost always warranty fixes, but they can still be a headache.
However, a gently used vehicle has already been through its shakedown, so you shouldn't have to worry about any of those issues. Just get behind the wheel and enjoy your new vehicle-after all, it's practically brand-new anyway!
Advantages to Buying a Used Car at Fred Beans
At Fred Beans Used, we've got a vast range of pre-owned vehicles in a wide variety of makes and models. You can get all the advantages to buying a used car plus great financing deals and specials all from a local Reading, Doylestown, and Boyertown dealer you can trust. For more information,
contact us online
today!