When you purchase a used car in the state of Pennsylvania, you'll need to get the car registered in your name before you can drive it home with you. If you already have a license plate for a car you no longer need, for example, if you have sold or traded in your former vehicle, you can simply transfer the title to the new vehicle.
If you do not already have a license plate that can be transferred to the car, you'll need to get a temporary license plate while you wait for your permanent plates to be prepared.
This process is simple, but many drivers may not know exactly what to do in the situation. That's why our team at
Fred Beans Used
has put together this helpful guide to how to get temporary tags for a used car in Philadelphia, Doylestown, Flemington, or Mechanicsburg. We hope it makes your car buying process smoother and more enjoyable!
What Do I Need to do Before I Can Get Temporary Car Tags?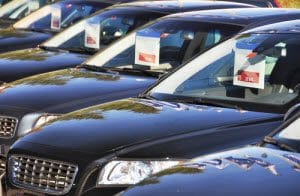 Before you can apply for your temporary license plate, you'll need to get proof of your car insurance policy-either a copy of your insurance card, or the declaration page of your insurance policy.
Where Do I Get My Temporary Tags Online?
You'll have to visit your local DMV office or authorized PennDOT agent.

 

First, head to

dmv.state.pa.us

and click on Find a PennDOT location near you, to discover an agent. You may even find that your car dealership is an authorized agent.
What Should I Bring With Me?
You'll need to bring along just a few items to the DMV or PennDOT office when you go to get your temporary plates.
 Valid Pennsylvania driver's license or ID card (or a U.S. Armed Forces Common Access Card, or U.S. Uniformed Services Identification and Privilege Card)
 Proof of car insurance: Either your insurance card or the declaration page of your insurance policy
 The vehicle title in your name
 Verification that the car has been safety inspected and emission inspected. If you purchase your used car at a dealership, the service center should be able to do this for you.
 Application for Temporary Registration and Plates (MV-351)
How Do I Get the Paperwork I Need?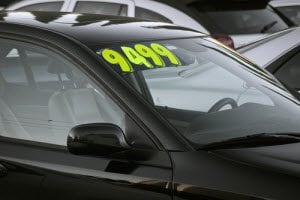 The DMV or PennDOT office will be able to provide you with any paperwork that you need to complete your application. You can also find forms at dmv.state.pa.us that you can print and complete at home.
Do I Have to Pay For My Temporary License Plate?
Yes, temporary tags will cost you just $30. You'll have to pay by check or money order to the Commonwealth of Pennsylvania.
How Long Are My Temporary Tags Valid?
Temporary tags are valid for 90 days.
When Will I Get Permanent License Plates?
Your permanent plates will be sent to you, and should arrive by mail within 8 to 10 weeks. When they arrive, you may replace your temporary plates with the permanent plates.
Find Your Used Car
If you're on the hunt for a used car for your commutes around Philadelphia, Doylestown, Flemington, and Mechanicsburg,
contact Fred Beans Used dealership
and see what we have in stock. We can't wait to help you find your dream car!